Group Arena (aka Competition Arena) is different from ordinary PK Arena. It is available to all players above level 10 except the red-name players, in two forms of "Confrontation" and "Defense". You will find it's an ideal place to level up in a quicker pace and have more fun with partners. Players must have a Group to enter this arena.
Defense Mode
Edit
Monsters come in waves to attack NPC Master Ku. Players must defeat the monsters to protect Master Ku from being killed. The more waves players succeed in defeating, the more rewards they will get. Extra experience and rewards will be accumulated after round 20. Each player can enter into this arena 3 times per day.
Confrontation Mode
Edit
Teams must defeat the landmark of the enemy with the help of NPCs or accumulate the highest points to be the winner. The maximum fighting time in this map is one hour. Points are accumulated by killing players of the enemy, or NPC. During the valid time, the team that succeeds in defeating the Tree of Life of the enemy will be the winner. If neither Tree of Life is defeated, the team with the higher points will be the winner. Each player can participate twice per day.
Entering Group Arenas
Edit
Use the Competition Arena button on your mini map to find and enter this arena. The GA interface will appear: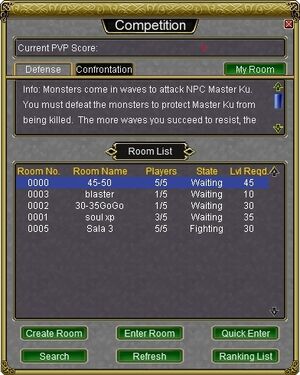 From here you can see what rooms are already set up for either Defense or Confrontation.
Select the room that is most appropriate to your character level, and click Enter Room.
How to Create a Room
Edit
If you wish to create your own room open the GA interface and choose Create Room.
Name the room
Select either Defense or Confrontation
Determine the player level required. This will determine the level of the monster waves attacking in Defense mode. Team members should be within 5 levels of each other for the greatest success.
Click Create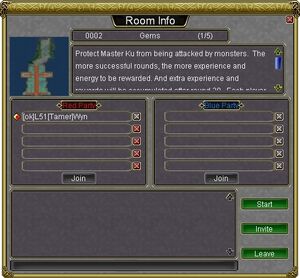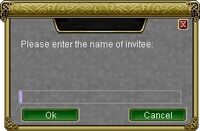 Once you have created your room you can invite others to join.
Each player signifies their readiness to begin by clicking on the x to the right of their name. When the entire team is ready, the captain can begin the match.
Ad blocker interference detected!
Wikia is a free-to-use site that makes money from advertising. We have a modified experience for viewers using ad blockers

Wikia is not accessible if you've made further modifications. Remove the custom ad blocker rule(s) and the page will load as expected.